Yes,  you read that right.   Marathon number 11.   ELEVENTH!.
There were so much running and races between my last recap to now, and I don't even want to play catch up.   I've been slacking busy!  Yes, that's my excuse and I'm going to stick to it.    However, I do want to write this particular one because it's very different than any of my other races.
Remember when I ran 2013 Disneyland Half Marathon and I paced my friend, Rebekah?   It was my first race that I actually did not do it for me.   I ran that race solely because I made a promise to Rebekah that I will get her to the finish line for her first half-marathon.   It was the most rewarding experience for me because I got to experience the joy of completing her first half-marathon through her.   The distance that once impossible for her.    Since then, I have paced several friends through their first half-marathon, even their first 10k/half-marathon challenge and I enjoyed every one of them.
Fast forward to December 2015 – a good friend of mine, Patty Holiday, asked me to help her with her first marathon.  She had run 18 miles so far and was about to run her first 20-miler and needed moral support for the rest of her training and during the race.     The word absolutely came out of me so fast and I even told her that I would get a bib and run with her to the finish line.
I contacted a travel agent (shout out to Magical Miles Travel!  Sarah Bergman is an awesome travel agent to work with!) and she had a marathon bib available.   I grabbed two bibs for me and the husband, called DVC to see if I can score the lodging and scoured the interwebs for cheap airfare and the stars just lined up perfectly.    I got us a room at Saratoga Springs Villa and got a round trip tickets for me and the husband from Seattle to Orlando for $389 round trip/person.    That's almost unheard of, but hey — sometimes the last minutes thing really work on your favor.    We took a red-eye flight on Friday from Seattle to Orlando, went to Expo on Saturday, ate, mingled and rested.
Race Day
Our alarm went off at an ungodly hour of 2:30 am.    My body was still on west coast time and I was not a happy camper (I never was one on that hour).    We got dressed, ate quick breakfast and hopped in the bus around 3:30 am.    It was warm and humid, even at 3:30 am, especially for this Pacific Northwest Girl.    I texted Patty to check on her, and she told me that she was on the bus and almost at the drop-off area.
The rest was kinda blurred to me.   I remembered the bus drop us off, and we walked through security and towards our corral.    Since I purchased our bib late, we did not submit our proof of time for a good corral placement, so we both at corral L.   We hung out at the back of the corral and before I knew it, the race started.    I tracked Patty's bib so I could keep an eye on where she was at.   She was at corral J and she crossed the start line around 6 am.    I told her to stick to her interval and stay on the right side of the course and I will find her.   We texted back and forth, and around 6:20 am, I crossed the start line.
Mile 1-7
Oh, the humidity.   Yes.  This was a miserable seven miles for me.   I was slightly jet-lag and tired and it was waaaaaarrrrmmmmm and humid.   We kept steady 30/30 ratio and average around 12:30 pace even with the crowd.   I saw my friend Carolyn who brought my sunglasses (Thank you Thank you Thank you!) since I left that in the room, hugged her and headed into the park.
I didn't stop for any pictures with characters, other than Lilo & Stitch (my youngest daughter is a huuuuuuuge fan of them, so I had to stop) but took some background photos  here and there but boy, it was very crowded.   I ran into several friends and tried to shorten the gap between us and Patty.    I texted her and she told me that she was just short of mile 5 when we left the Magic Kingdom.
We passed mile 7 and I still did not see the sign of Patty, and I was starting to get worried.    Did I miss her?   Did we pass her and not see her?    I told the husband to veer to the right and stop since I needed to text her, and I heard a shout…. YANNI!
I looked to my right and there was Patty.    She stopped shortly before mile 8 so she can text me because she was struggling.    I looked at her, did my quick scan (yes, I did check her out from head to toe to make sure she didn't fall earlier and ya know, have bloody knees or something) and asked her how she was doing.     She told me that she wasn't doing well.    It was only mile 8 and she didn't know if she could actually keep going.    She looked .. panicked.    I told her to diss her timer and follow me.    The husband told her to drink and eat the snack and made sure she wasn't dehydrated.   We stopped for a good 5 minutes to regroup and we started to run again
Mile 8-17
I started Patty on 30/2-minutes interval.   We shuffled for 30 seconds and we walked for 2 minutes.   I told her to focus on my steps and just follow me.   The husband was task behind her and entertained her with his constant stories (This is true.   He could make stories our of anything during the run).    I looked at my watch and we were around a 16:30 pace.    We passed mile marker 9 and the husband shouted… look we are half way to mile-18!    I laughed at his silly-ness and secretly hoped that Patty was not too much annoyed by his sense of humor but she seemed to play along so we kept going.    We entered the Animal Kingdom and I decided to skip Everest ride (yes, for those who never run WDW marathon — you can ride the ride in the middle of your race) and stay with Patty, even though she insisted of me to go ride it.     We took a quick picture and kept shuffling around.    Patty saw a few of her friends who cheered and volunteered, and I saw some of mine.   I was all good so far.
We were on a steady pace of 16:30 and our gap between us and the balloon ladies (official 16-min/mile pacer) were getting shorter (I tracked them so I know when they hit certain timing mat).    I was starting to get a little nervous so I switched our interval to 30/60 without Patty even knowing it (she probably cursed me inside .. haha).     I was so proud of her though as she was doing exactly what I was asking her.    Follow my steps.   She ran when I ran, she walked when I walked.     I told her to only focus on the 30 seconds we were running.   That's all because most people can shuffle for 30 seconds and as long as we were moving forward, we were good.
We left the Animal Kingdom and kept on going.    Patty was in good spirits (or so it seems) even though there was a shorter walk break, but my muscles started to get tired.    Since I was pacing her, I ran slower than I normally did, and walked more than I normally walked and guess what — my muscles were not trained for that much of walking.    I can feel some of the twinge on my muscles so I started to run a bit faster to mix it up a bit.    The husband ran in front of Patty (sometimes backward) and paced her, and I was behind her — keeping a distance so I can do 'run' break to work my muscles differently.     I started to doubt myself on this whole 'pacing someone for a marathon' thing.   What was I thinking?   What happened if *I* could not go on?    I mean, I just came out of TFL injury after back to back Marine Corps Marathon and New York Marathon and diagnosed with Pneumonia 2 months prior.     Whooooo… boy.    I was on full on panic mode.   It's one thing when it's only me that I have to worry to get to the finish line and I know that I have enough stubborn cells in my body to do it, it's a whole 'nother thing when you have other people rely on you to get to the finish line.
Mile 18-24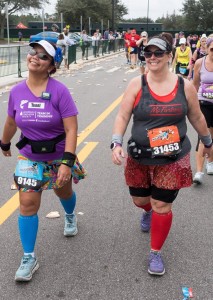 We hit mile marker 18, and the husband made a comment that not too long ago, he was saying that we were half way point to mile 18.    I mumbled something along… well, that was a long time ago, but I didn't think he heard me.   We walked through World Wide of Sport (ESPN complex) and gosh, I hated this part.    I hated during Goofy 2013 and Dopey 2015 and I still hated it in 2016.     I looked at my watch and realized that we were only 12 minutes ahead from the balloon ladies.    We ran into a few friends, took pictures, stop at porta-potty and we kept going.    Slow, but steady.    We left WWoS and saw the parade bus aka. sweeper bus shortly after mile 21 and Patty suddenly ran a bit faster.    The sight of the sweeper bus just lit a fire in her and I started to feel confident about everything.
Furthermore, before getting CIALIS, Continued very important to inform your physician about every other medicines you're getting to avoid interactions that are possible.

Furthermore, before getting CIALIS, Continued very important to inform your physician about every other medicines you're getting to avoid interactions that are possible.

Furthermore, before getting CIALIS, Continued very important to inform your physician about every other medicines you're getting to avoid interactions that are possible.

Furthermore, before getting CIALIS, Continued very important to inform your physician about every other medicines you're getting to avoid interactions that are possible.

Furthermore, before getting CIALIS, Continued very important to inform your physician about every other medicines you're getting to avoid interactions that are possible.

Furthermore, before getting CIALIS, Continued very important to inform your physician about every other medicines you're getting to avoid interactions that are possible.

Furthermore, before getting CIALIS, Continued very important to inform your physician about every other medicines you're getting to avoid interactions that are possible.

Furthermore, before getting CIALIS, Continued very important to inform your physician about every other medicines you're getting to avoid interactions that are possible.

Furthermore, before getting CIALIS, Continued very important to inform your physician about every other medicines you're getting to avoid interactions that are possible.

Furthermore, before getting CIALIS, Continued very important to inform your physician about every other medicines you're getting to avoid interactions that are possible.

Furthermore, before getting CIALIS, Continued very important to inform your physician about every other medicines you're getting to avoid interactions that are possible.

Furthermore, before getting CIALIS, Continued very important to inform your physician about every other medicines you're getting to avoid interactions that are possible.

Furthermore, before getting CIALIS, Continued very important to inform your physician about every other medicines you're getting to avoid interactions that are possible.

Furthermore, before getting CIALIS, Continued very important to inform your physician about every other medicines you're getting to avoid interactions that are possible.

Furthermore, before getting CIALIS, Continued very important to inform your physician about every other medicines you're getting to avoid interactions that are possible.

Furthermore, before getting CIALIS, Continued very important to inform your physician about every other medicines you're getting to avoid interactions that are possible.

Furthermore, before getting CIALIS, Continued very important to inform your physician about every other medicines you're getting to avoid interactions that are possible.

Furthermore, before getting CIALIS, Continued very important to inform your physician about every other medicines you're getting to avoid interactions that are possible.

Furthermore, before getting CIALIS, Continued very important to inform your physician about every other medicines you're getting to avoid interactions that are possible.

Furthermore, before getting CIALIS, Continued very important to inform your physician about every other medicines you're getting to avoid interactions that are possible.

Furthermore, before getting CIALIS, Continued very important to inform your physician about every other medicines you're getting to avoid interactions that are possible.

Furthermore, before getting CIALIS, Continued very important to inform your physician about every other medicines you're getting to avoid interactions that are possible.

Furthermore, before getting CIALIS, Continued very important to inform your physician about every other medicines you're getting to avoid interactions that are possible.

Furthermore, before getting CIALIS, Continued very important to inform your physician about every other medicines you're getting to avoid interactions that are possible.

Furthermore, before getting CIALIS, Continued very important to inform your physician about every other medicines you're getting to avoid interactions that are possible.

Furthermore, before getting CIALIS, Continued very important to inform your physician about every other medicines you're getting to avoid interactions that are possible.

Furthermore, before getting CIALIS, Continued very important to inform your physician about every other medicines you're getting to avoid interactions that are possible.

Furthermore, before getting CIALIS, Continued very important to inform your physician about every other medicines you're getting to avoid interactions that are possible.

Furthermore, before getting CIALIS, Continued very important to inform your physician about every other medicines you're getting to avoid interactions that are possible.

Furthermore, before getting CIALIS, Continued very important to inform your physician about every other medicines you're getting to avoid interactions that are possible.

Furthermore, before getting CIALIS, Continued very important to inform your physician about every other medicines you're getting to avoid interactions that are possible.

Furthermore, before getting CIALIS, Continued very important to inform your physician about every other medicines you're getting to avoid interactions that are possible.

Furthermore, before getting CIALIS, Continued very important to inform your physician about every other medicines you're getting to avoid interactions that are possible.

Furthermore, before getting CIALIS, Continued very important to inform your physician about every other medicines you're getting to avoid interactions that are possible.

Furthermore, before getting CIALIS, Continued very important to inform your physician about every other medicines you're getting to avoid interactions that are possible.

Furthermore, before getting CIALIS, Continued very important to inform your physician about every other medicines you're getting to avoid interactions that are possible.

Furthermore, before getting CIALIS, Continued very important to inform your physician about every other medicines you're getting to avoid interactions that are possible.

Furthermore, before getting CIALIS, Continued very important to inform your physician about every other medicines you're getting to avoid interactions that are possible.

Furthermore, before getting CIALIS, Continued very important to inform your physician about every other medicines you're getting to avoid interactions that are possible.

Furthermore, before getting CIALIS, Continued very important to inform your physician about every other medicines you're getting to avoid interactions that are possible.

Furthermore, before getting CIALIS, Continued very important to inform your physician about every other medicines you're getting to avoid interactions that are possible.

Furthermore, before getting CIALIS, Continued very important to inform your physician about every other medicines you're getting to avoid interactions that are possible.

Furthermore, before getting CIALIS, Continued very important to inform your physician about every other medicines you're getting to avoid interactions that are possible.

Furthermore, before getting CIALIS, Continued very important to inform your physician about every other medicines you're getting to avoid interactions that are possible.

Furthermore, before getting CIALIS, Continued very important to inform your physician about every other medicines you're getting to avoid interactions that are possible.

Furthermore, before getting CIALIS, Continued very important to inform your physician about every other medicines you're getting to avoid interactions that are possible.

Furthermore, before getting CIALIS, Continued very important to inform your physician about every other medicines you're getting to avoid interactions that are possible.

Furthermore, before getting CIALIS, Continued very important to inform your physician about every other medicines you're getting to avoid interactions that are possible.

Furthermore, before getting CIALIS, Continued very important to inform your physician about every other medicines you're getting to avoid interactions that are possible.

Furthermore, before getting CIALIS, Continued very important to inform your physician about every other medicines you're getting to avoid interactions that are possible.

Furthermore, before getting CIALIS, Continued very important to inform your physician about every other medicines you're getting to avoid interactions that are possible.

Furthermore, before getting CIALIS, Continued very important to inform your physician about every other medicines you're getting to avoid interactions that are possible.

Furthermore, before getting CIALIS, Continued very important to inform your physician about every other medicines you're getting to avoid interactions that are possible.

The momentary panic feeling went away, and we entered Hollywood Studios.    We took a few pictures with the characters as there were no lines.    I knew that we would cross the finish line together that day, even if both the husband and I had to drag her with us but Patty's spirit seems to be up and she looked more confident than she was several miles prior.      I kept us moving with the same pace.   I switched us back to 30/2-minutes and the husband just ran/walk backward in front of us while continue to feed us with some stories about something.    Oh, how I love that husband of mine!    All of the pictures on this post were taken by him.    He ran with full-size camera in his hand and I love how he documented the whole race for us.

For the husband, this was his fifth marathon in 2 years.    Yes, from the last race recap on this blog to this post, somehow the husband became a runner and started to run the race with me.    From couch to Half-Marathon in summer 2014 and he ran pretty much all the races with me (with the exception of a few local races).

We moved along slowly, but steady through Hollywood Studios and I knew there's one more hard sweeping point, which was outside Hollywood Studios, before the narrow trails towards the boardwalk.    I saw the parade sweeper bus out there as we walked near it and I was so relieved to know that we made it through all the sweep point!!!     I shouted to Patty as we walked towards the Boardwalk … YOU ARE GOING TO BE A MARATHONER!!    She was all teary eyes with a huge grin on her face and said, yes yes I am!

Mile 24 – 26.2

We entered Boardwalk and was passed by balloon ladies but I knew as long as we kept moving forward, we were okay.    I took one good look at Patty and decided to ditch the interval and just walked, and ooooh we did.    We joked, we laughed, we cried a bit and before long, I saw familiar faces.    It was several friends of mine (I love you to pieces, ladies) that waited for me there and cheered me!        Jill (in the picture, green shirt with banana… ooh.. banaaanaaa) and Carolyn (she was not in the picture) flew to DC several months prior to cheer me and the husband during Marine Corps Marathon.   Heather (blue shirt, holding the sign) ran half-marathon the day prior and was on her feet, cheering for SEVEN HOURS!!!

I puffy-pink heart all of these ladies!!!

We walked through the Boardwalk and entered Epcot and I started to get a little emotional.  I remembered my first marathon, on this very course.   I still vividly remembered, to this day, how I felt when I looked across the lake and saw the Epcot ball and those feelings were bubbling up out of nowhere!

I asked the husband to walk ahead towards Mexico pavilion and got Patty a frozen Margarita.   I promised her that the day before, so (oh how I love that husband of mine) the husband ran ahead, stood in the line and waited for us with a frozen margarita on his hand!    We ran into several other friends and it was just the most amazing thing.    We continue to walk and before we knew it, I saw the finisher chute.

The husband stepped back a few feet and captured an amazing picture of us crossing the finish line!

Disclaimer:   We did not block the finish line (feel free to peruse marathonfoto and check out our finisher video) and there were a good ten feet between us and the husband who took this awesome shot

Patty and I hugged each other and I was so so very proud of her!    The joy that I experienced when I cross that finish line with her was indescribable.     She almost gave up at mile 8 and she didn't. She kept going.   She moved from start to finish with her own two feet, all twenty-six point two miles of it!!!!      And as for me — I get to experience the joy, the amazing joy that as a runner, completely beyond everything I ever experienced.    If you are interested to read Patty's recap, she blogged it here.

Footnotes

If you never pace or run someone on their first race, be that 5k/10k/Half-Marathon or Marathon — I highly suggested you try it.    To actually run a race, not for yourself.    It was so very rewarding and you won't regret it.     This saying below always something that I live by and I hope, on January 10, 2016 — Patty really looked at me and think that.     Because if I can inspire ONE person to achieve something that once impossible for them, everything that I do carries so much value